A Message from Jennifer
I understand the many distinct issues facing our diverse area, but there is one thing all 11 counties in our district have in common. They want a government that listens to them and puts them and our shared conservative values first. I am eager to go to bat for our communities, because we all deserve to have a representative in Tallahassee that fights for us first.
Meet Jennifer: Conservative Republican and Business Owner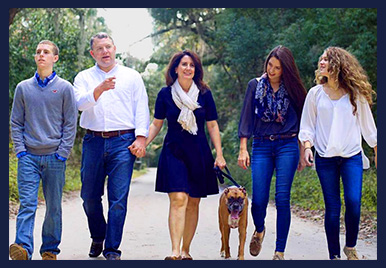 Jennifer graduated from the University of Florida in 1991 with a degree in Criminology and earned a Juris Doctor from The Florida State University College of Law in 1995. She practiced law, specializing in legal research and drafting, including service as a staff attorney for the judges of the Fourth Judicial Circuit. Jennifer is the owner of Hibernia Property Management, Inc., a commercial rental company in Orange Park. She also serves as business manager for the law office of Bradley, Garrison & Komando, P.A. Jennifer and her husband Rob live in Clay County where they raised their three children, Connor (23), Stephanie (21) and Caroline (19).
Small Business Owner, Hibernia Property Management, Inc.
Business Manager, Bradley, Garrison & Komando, P.A.
Board of Directors, Board member (past Chair) PACE Center for Girls Clay, 2014-present
University of Florida, Bachelor of Science in Criminology, 1991
Florida State University College of Law, Juris Doctor, 1995, Law Review